How to Become a Budtender
August 31, 2023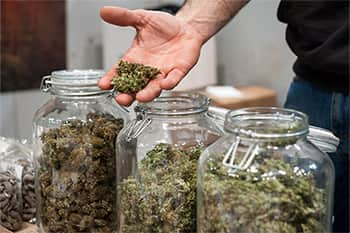 Becoming a budtender in the cannabis industry is easier than you think, and demand for this job role is high. According to Finances Online, the cannabis industry is expected to generate an additional 250,000 full-time jobs between 2020 and 2024.
The industry's rapid growth comes with an increased need for qualified dispensary employees, also known as budtenders. If you're interested in entering the industry, becoming a certified budtender is a great place to start.
Continue reading to learn more about what a budtender does, the steps to getting certified and what it takes to succeed in the cannabis industry.
What Is a Budtender?
Becoming a budtender is a common entry point for a career in the cannabis industry. A budtender is an employee who helps customers complete sales at a cannabis dispensary or store.
But a budtender does much more than simply ring up purchases. They get to know customers and find out their specific needs. They help visitors find the right cannabis product and answer any questions.
According to Glassdoor, the average salary for budtenders is about $45,000 per year. In addition to the base pay rate, budtenders often receive tips for high-quality service.
One of a budtender's primary jobs is educating customers about the various types of cannabis products sold at the dispensary or store. This can include information on the forms and strains of cannabis available, potential benefits and the overall experience the customer can expect.
Budtenders always strive to be polite and knowledgeable, representing the dispensary in a positive way.
Earning Your Budtender Certification
An increasing number of cannabis stores and dispensaries are requiring employees to earn a cannabis certification. You may also need to secure a state license to work in the cannabis industry.
Regardless of whether or not a potential employer requires a certification, earning one can give you a competitive edge in the hiring process.
Listing a budtender certification and any other industry-related training on your resume shows that you are knowledgeable, serious about the industry and eager to advance your skill set.
Topics covered in budtender certification training typically include:
State and federal cannabis laws
The effects of cannabis
Safety concerns associated with cannabis use
Responsible cannabis vending guidelines
Cannabis industry health and safety standards
Cannabis supply chain and recordkeeping
Transporting cannabis safely
Identifying underage customers
Age requirements for budtenders vary from state to state. Some states require you to be at least 18, while others require 21 and up. Before you apply for dispensary jobs or sign up for certification training, study your state's cannabis laws and industry regulations.
What if I Don't Have Cannabis Industry Experience?
Past work experience in the cannabis industry is one of the best ways to land an interview and make a strong first impression.
But even if you have no previous experience in the industry, be sure to highlight any past jobs or transferrable skills that would make you a top-performing budtender.
On your resume and in job interviews, demonstrate your:
Cannabis industry knowledge
Passion for the industry
Cannabis product knowledge
Customer service skills
Communication skills
Knowledge of cannabis laws and regulations
In addition, be sure to mention any related work experience, including:
Service industry experience
Customer service experience
Retail experience
Sales experience
Cash register experience
Get creative and think of ways you can prove that your skills and job history make you an ideal fit for the budtender position.
Ready to Become a Certified Budtender?
Prepare to succeed in the cannabis industry with Responsible Vendor Training. As a budtender, you're not just a salesperson — you're a compliance champion. Responsible Vendor Training equips you with ANAB-accredited or state-approved education, ensuring you have the required knowledge to complete safe, legal and top-notch cannabis sales.
Join the ranks of responsible cannabis vendors and shape the future of cannabis sales today! Don't miss your chance to thrive in this booming industry — become a certified budtender with Responsible Vendor Training.
We offer ANAB-accredited budtender training as well as state-specific training for Colorado, Illinois and Massachusetts.
What Makes a Good Budtender?
Good employees can have a number of positive qualities, including professionality, responsibility, timeliness and positivity. But what makes an especially good budtender?
As a budtender, you will be the face of the dispensary. Educating customers about your cannabis product line is a major part of the job. You should be confident in your ability to recommend the best product based on the customer's unique needs, preferences and medical history.
You must also be skilled in customer service, as this is a retail job that requires a kind and helpful demeanor. When people enter the store, greet them, display a good attitude and answer any questions they have about your products.
Top-performing budtenders keep up with industry news and trends. This can include new products or strains, changes in laws or information on crop quality.
Budtenders should also have an advanced understanding of the cannabis market, including types of products, consumption methods, the effects of cannabis, cultivation and important chemical compounds.
It's important to stress safe cannabis use to all customers, regardless of age or experience. Instructing customers on safe and responsible dosing is a critical part of the job.
If you are budtending at a medical cannabis dispensary, it is crucial to check each customer's identification and paperwork in order to protect yourself and your dispensary from any legal issues. Employees at recreational cannabis stores must also be trained to ID customers and detect fake IDs.
Other Jobs in the Growing Cannabis Industry
Once you have worked as a budtender, you may be wondering what other jobs are available in the cannabis industry. Budtending is a great way to get your foot in the door, but once you've gained industry experience the opportunities are nearly endless.
The 2022 Leafly Jobs Report identified more than 428,000 full-time jobs supported by legal cannabis. The report also found that the industry showed 33% year-over-year job growth from 2020 to 2021. Here's just a few examples of other opportunities in the cannabis industry.
Cannabis Delivery
If you enjoy the retail space but want to try your hand at a new position, consider seeking a job in cannabis delivery. Many dispensaries are providing this convenient service to customers. If you're someone who likes to be on the go, this could be the perfect job for you.
Cannabis Cultivation
Cannabis cultivators play a key role in the industry: growing and processing cannabis plants. Job titles include grower and trimmer, and both work hands-on with plants to ensure they are of the best quality.
Cannabis Extraction
Extraction is the process of removing oils from the cannabis plant and using them to manufacture products called extracts or concentrates. If you choose a job in extraction, you'll find yourself working in a cannabis lab. You may work as a quality manager, testing products and investigating complaints. Or you could be a concentrates processor, extracting safe oils to be used in cannabis products.
Cannabis Manufacturing
As a cannabis manufacturing employee, you could serve as an edibles chef, infusing cannabis extracts into a variety of food items. A more common job role in manufacturing is packager. Packagers are responsible for packaging cannabis products into containers, where they will be stored safely until they are sold and consumed.
Additional Resources
It's no secret that the cannabis industry is one of the fastest-growing markets in the United States. With increasing product demand and exponential job growth, now is the perfect time to begin your budtending career.
Check out these helpful resources to learn more about the cannabis industry and budtending:
Sources