Online Cannabis Training for Delivery Employees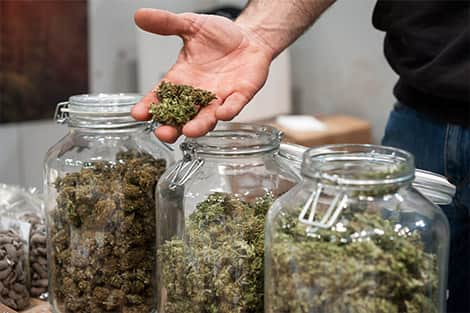 In many states, cannabis retail owners or managers that utilize direct-to-customer cannabis delivery must ensure delivery employees are thoroughly trained and hold a certificate or license. If you want your business to stay compliant, our convenient and state-approved online cannabis delivery training programs can help.
Our cannabis training courses offer the following benefits:
100% Online
Self-Paced Training on a Flexible Schedule
Instant Certificate Download
Corporate Bulk Discount Pricing
In the cannabis seed-to-sale life cycle, delivery falls within the retail stage, in which a legal retailer provides cannabis products to qualified customers for personal use.
Who Needs Cannabis Delivery Training?
Common cannabis delivery job titles include:
Cannabis Delivery Driver
Cannabis Delivery Associate
Cannabis Delivery Specialist
To ensure cannabis products arrive to customers safely and legally, many states require businesses and employees to earn a certificate, license or permit to provide delivery services. Examples of this requirement include Colorado's Regulated Marijuana Delivery act and California's Type 9 and 10 retail licenses.
Depending on state regulations and requirements, delivery employees may need to complete delivery training and Responsible Vendor Training. States often require employees to retake these courses annually or after a specific number of years to remain compliant.
Even in states that don't have a specific license for cannabis delivery employees, all states where medical and adult-use marijuana is legal have training and licensing requirements for any employee that handles cannabis products. For delivery employees, specifically, this can include knowing state laws regarding cannabis possession limits, age verification, address verification and more.
Types of Cannabis Training for Delivery Employees
Specific training requirements for cannabis delivery drivers depend on state cannabis laws and local regulations. However, below is an overview of training categories that can help your employees meet state training requirements.
Responsible Vendor Training
Cannabis industry employees in a number of states must complete Responsible Vendor Training soon after starting work and retrain periodically to maintain a valid certificate.
We offer online and state-accepted Responsible Vendor Training programs that teach employees and owners how to perform safe and legal cannabis sales.
Course topics include:
State Cannabis Laws
Responsible Retail Sales
Health and Safety Standards in the Cannabis Industry
Cannabis Packaging and Labeling Requirements
Cannabis Product Recordkeeping
Verifying ID
Cannabis Product Delivery
» Explore our state-approved Responsible Vendor Training courses
Cannabis Delivery Training
Cannabis delivery training expands upon the topics explored in Responsible Vendor Training. It gives more detailed education on topics like maintaining patient confidentiality, advanced identification techniques and de-escalation strategies.
Course topics include:
Verification of ID and Patient Registry Cards
Maintaining Confidentiality of Patients and Consumers
Identifying Yourself to Law Enforcement or Local Regulators
Strategies to De-Escalate Potentially Dangerous Situations
Developing an Emergency Action Plan
These topics are covered in Colorado Cannabis Delivery Training, but specific lessons may vary depending on state or local regulations.
Sources